…. and on non-existent paths
If you want to and if you dare, you can also hike on experimental, invisible paths through the wild, spiky bush landscape above Plakias. What you get: wild, ruggedly beautiful nature with unusual perspectives on landscape and nature. And on Plakias and the surrounding area in particular. This wonderful nature is part of the heart of Crete.
At my suggestion, Clemens and I tackled a path last Tuesday that I didn't know whether it was actually easy to walk. In any case, it is shown as a route on an OSM map. At the end of this page you can see the path we took.
The hike began on the now asphalted, agricultural road heading west, which leads up right-hand just after the western exit of Sellia and passing the Farma Sellia factory building on the left. A little later on the right we pass the chapel of Agios Konstantinos and a few hundred meters further the asphalt ends at a few stables with four heavily barking dogs.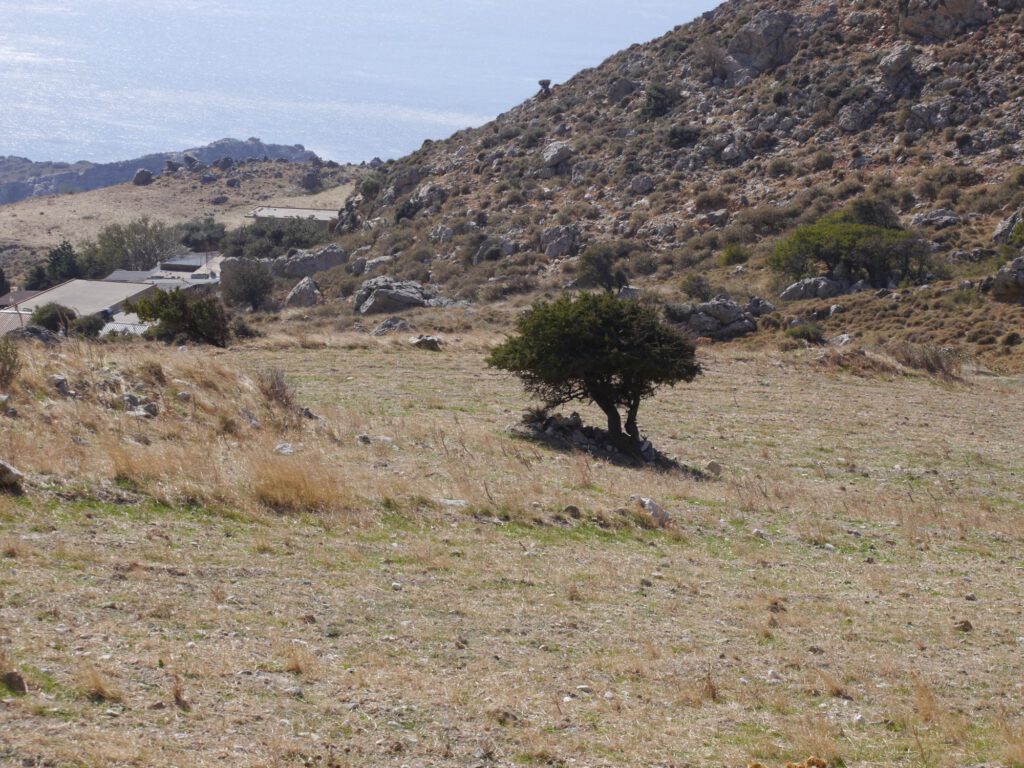 From here, so to speak, the hiking adventure began little by little and demanded a lot of stamina and walking ability from me …
On the maps below, you can see where we deviated from the marked path, because of course I didn't have a constant look at the mobile with GPS tracking. There was nothing to be seen of a visible path far and wide. And so our steps ran uphill-downhill, including a useless, careless diversion, only through the wild, prickly and most diverse plants of the Phrygana and Macchia.
Only when we laboriously crossed the Finikas River (which flows into the sea in Souda) did we have a relaxing gravel path in front of us for a while. It first led us to the radio exchange station on the slope leading up to the Krioneritis. From there we walked along the dry Finikas stream/river, back towards Sellia, so to speak, down the valley, where we took a somewhat longer break under shady plane trees. By this time we had been walking for about 5 hours and 6 km …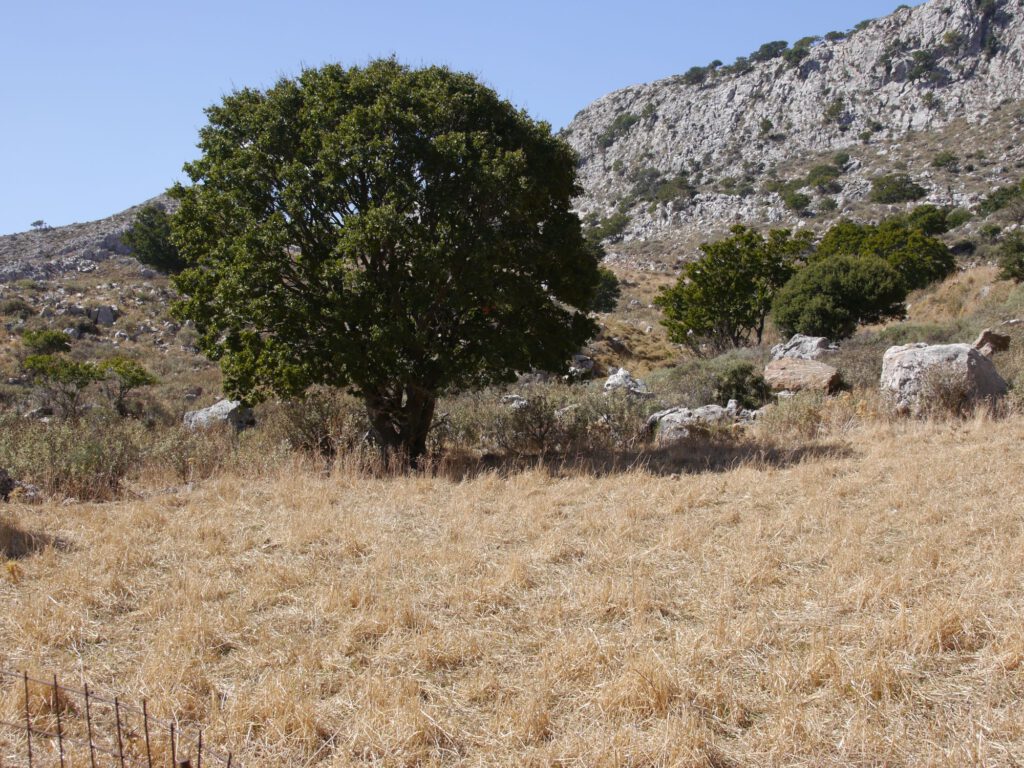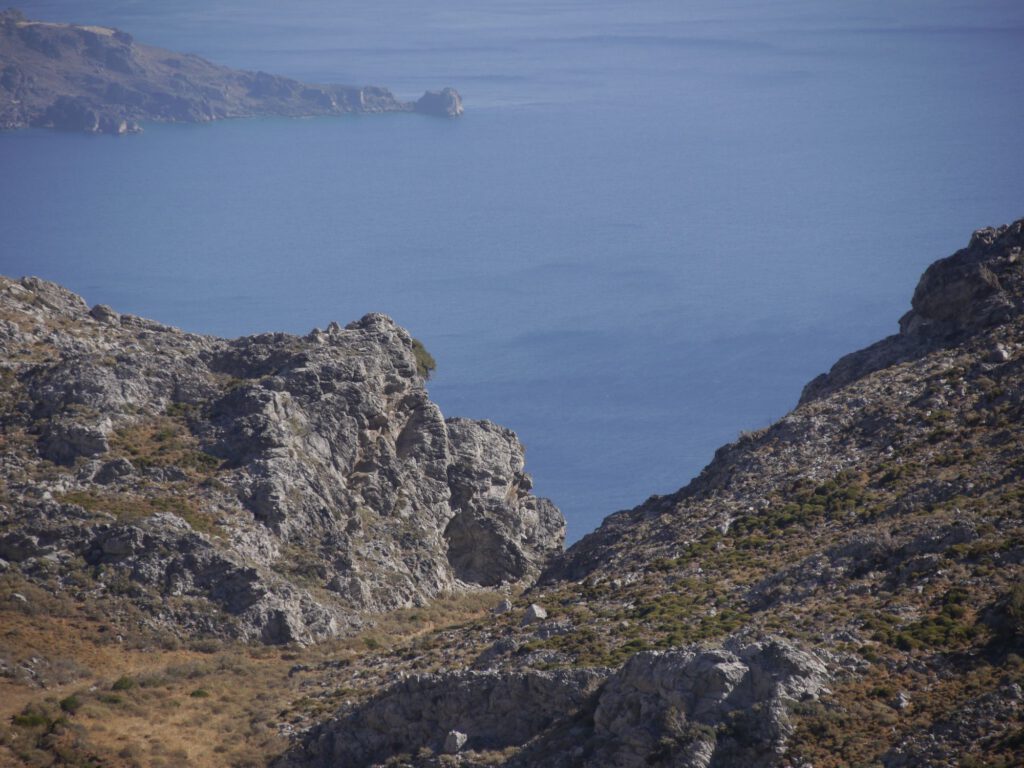 Cretan nature at its purest!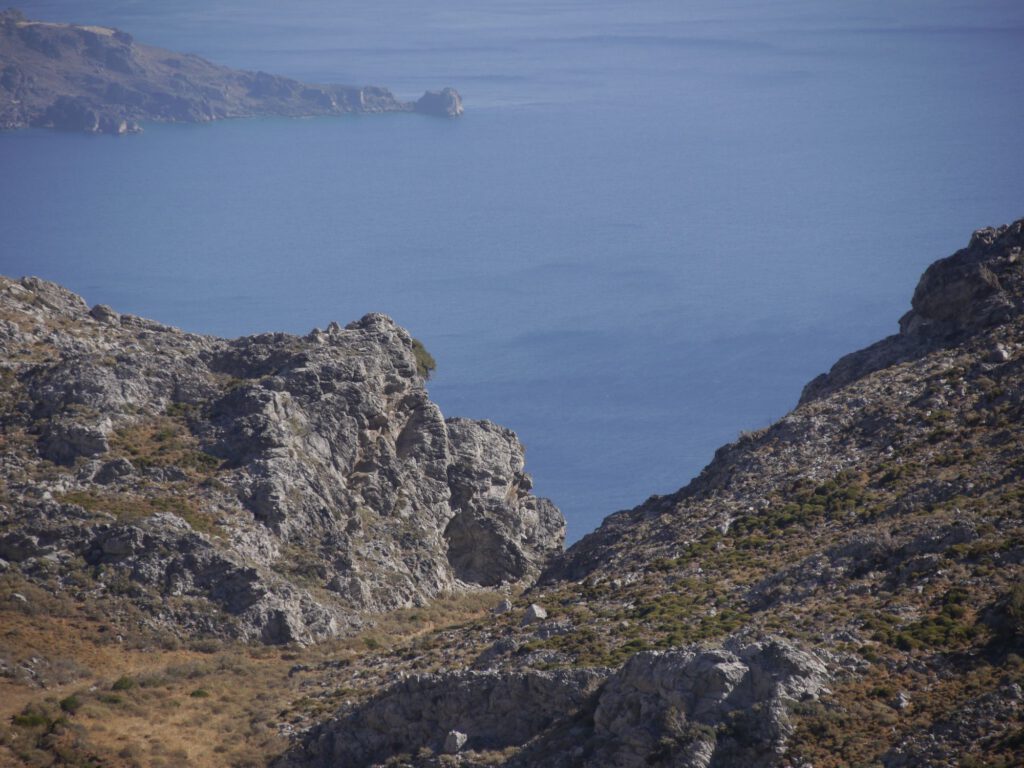 We seemed to be a little more than halfway through. However, the highlight and the most difficult part was still ahead of us.
The path should lead us to the small plateau above the Agia Marina chapel in a traverse that looks easy according to the map. However, there are no path entries on the map. So this will now be a kind of first ascent …
… which led us (unfortunately wrongly) completely into the first ascending and finally descending, scree-covered, partly narrow and increasingly steep macchia. A challenge for sure-footedness, which required the utmost concentration with every step downhill (about 150 metres in altitude for about 2 hours to the plateau) (without poles, nothing would have worked for me, and there is probably an easier way and we would just have had to walk a little further to the entrance of the small gorge …).
Finally, we reached the aforementioned small plateau, making three crosses and unharmed! Then we went down a rough gravel road to the Sellia – Rodakino road passing Agia Marina. And from there, exhausted, we hitch-hike home.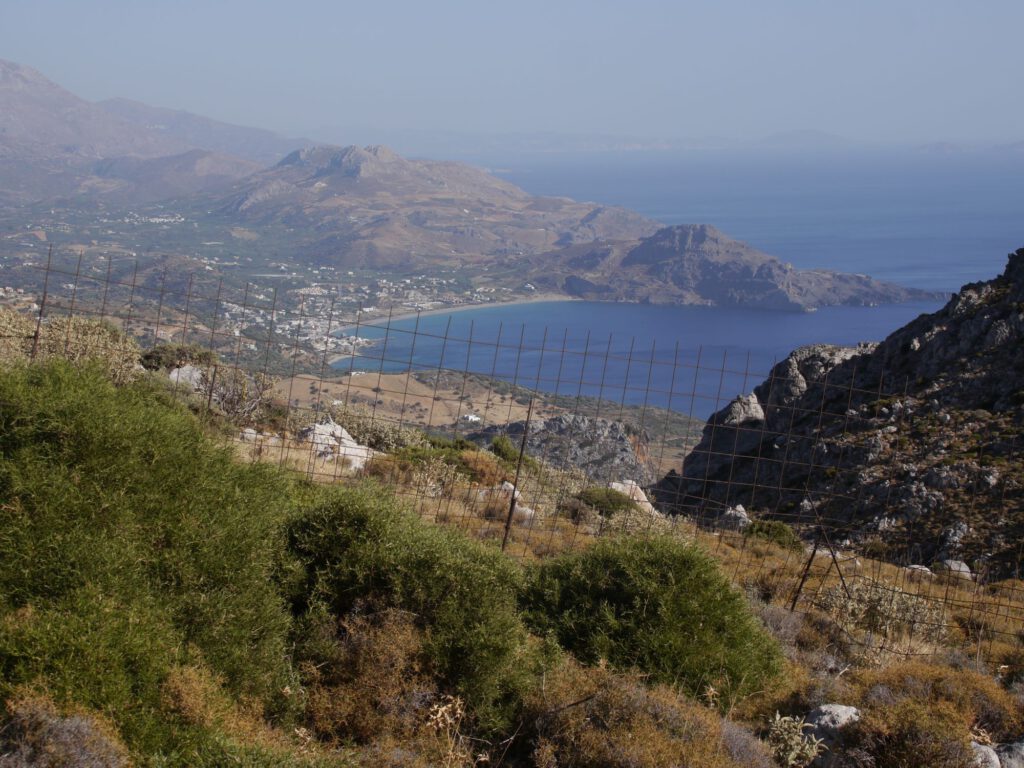 Unusual views of Plakias, Sellia and Mirthios!
Delightful! What an unusual hike, which I had had on my To Hike list for years! This experience in the Cretan mountain, with toil and effort, with wonderful views and insights, can no longer be taken away from us. Clemens as a hiking partner was perfect, because he enjoyed this nature trip similarly to me, without ever having, feeling or expressing the thought of "oh shit, when will this finally end?"
Clemens, thank you very much for your company, the directional suggestions during the course and your foresight in running ahead! And the conversations in between!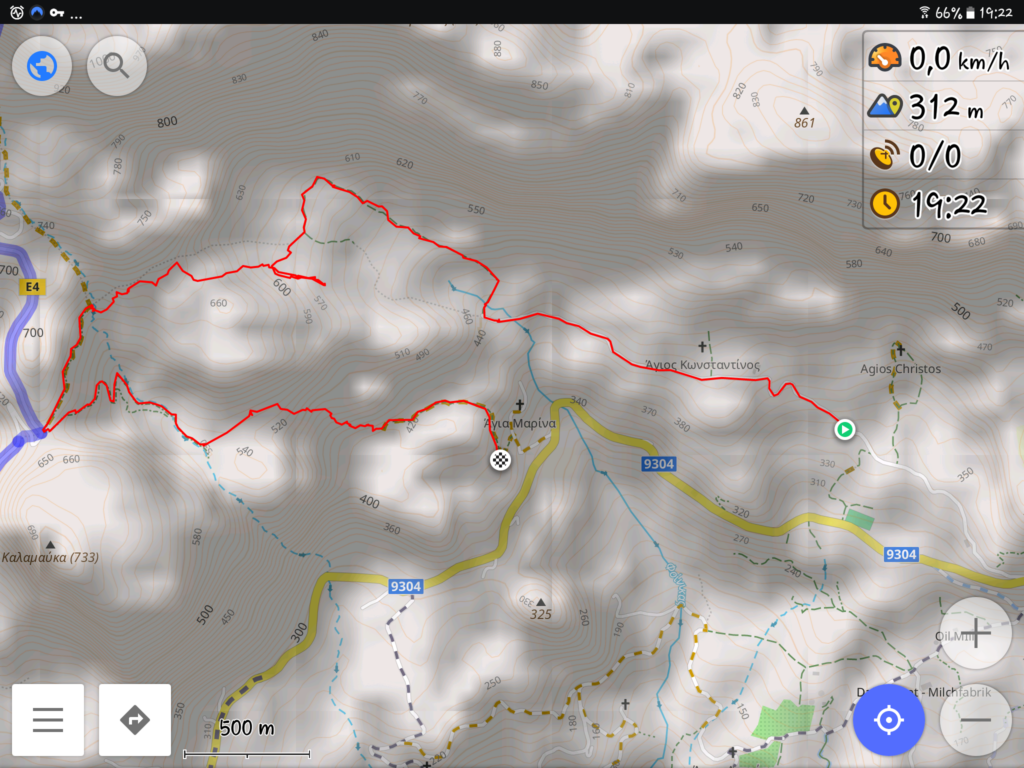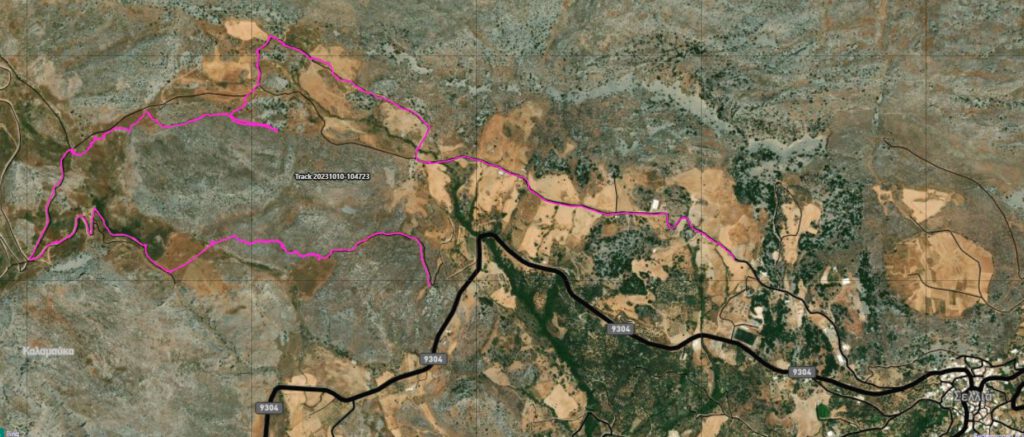 On our paths and detours …
Reflection
Such (day) walks/hikes in the Cretan wilderness "into the not so well known" should be reasonably well-prepared!
The most optimal way is to take the following with you:
NEVER Alone
Plenty of water (about two litres or more)
some provisions (apples, bananas, etc.)
Hiking boots or otherwise very sturdy footwear
Long trousers (thorns everywhere)
Dextrose and magnesium tablets if necessary.
Inform friends + acquaintances of the approximate route
nowadays mobile telephony + GPS-enabled devices
Rescue service numbers (European emergency number 112 or 166 First Aid Greece; there is NO mountain rescue, as in the Alps)
Hiking poles depending on surefootedness
Plaster, bandages, scissors and adhesive tape
some toilet paper or similar (e.g. Tempos)
a small roll of wire incl. (Wire) pliers (again and again these (actually unaesthetic) metal fences have to be overcome, some of which are secured by wire (and not, as is often the case, by twine)).
a few juicy steaks for aggressive, herding dogs that may unexpectedly appear in open areas…, … but hiking poles may also be helpful …